Multi-Function Vegetable Hand Press
Benefits

With every slap, the finer the food gets
Rotating stainless steel blades
Never need to switch blades.
Veggie Chopper is a manual chopper machine that chops food when you slap the plunger.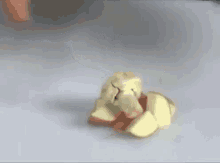 It's the perfect way for making a salad, pizza toppings, exciting tuna, breakfast to go, nuts and cookies for ice cream toppings, fruit salad, and many more foods.
Perfect for all kinds of food: Chop up vegetables, nuts, chocolate, and fruits quickly and easily; Great for onions and even garlic so your fingers don't smell and it saves time.
Stainless steel & large cup container: Veggie Chopper blades are made of the highest quality stainless steel while the convenient large cup container captures all foods that are chopped. High-quality blades quickly deskin the garlic and onions in seconds.
CHEESE GRATY
Comes with a Large Easy to Twist Cheese Grady Perfect for Tacos, Fettuccini, etc.
Specifications
Weight: 366 g
Material:

 

ABS

Color: 

white and black

Size: Approx. 25cm x 8.5cm (HxD)
Package Includes
1 Slap Chop Vegetable Food Chopper